Our Software Features
Below are some of the features you will find with our SEO software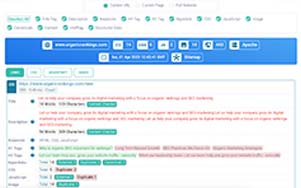 Features of our software
OrganicRankings.com's software is designed to improve your website SEO including coding issues related to web page speed. It gives you tools to improve your code, SEO issues and extract data so our software can analyze issues and audit for common errors related to rankings. Our tools are made for websites of all sizes. Our software gathers and analyzes your data so your team can make better decisions on how to improve your rankings. SEO Agencies will benefit from our technology and discover better ways to improve their rankings in the SERPs.
Subscribe to our SEO Software
Sign up for a Free Subscription to our SEO Software and get access to all of our tools and tutorials. No credit card required for free trial


No credit card required for free trial
Features for our SEO software
query_stats
Analyze Web Page and Correct Errors
Run an analysis with our website crawler and discover issues within your site such as review meta robots and directives, audit hreflang attributes, meta data, broken images css and javascript and more. We will analyze your data and offer your solutions for coding and optimization issues including AI-powered generation tools to assist you with changes.
Our web crawler scans for on page and site wide issues such as:
arrow_forward
arrow_forward
arrow_forward
arrow_forward
arrow_forward
arrow_forward
arrow_forward
arrow_forward
arrow_forward
arrow_forward
arrow_forward
arrow_forward
arrow_forward
arrow_forward
arrow_forward
arrow_forward
youtube_searched_for
PageSpeed Insights and Analysis
Run an audit of your website's Performance, Accessibility, Best Practices and SEO for all of your pages and track changes that occur automatically so you can update your web pages. You will also get a website audit that shows the metrics for loading, speed and more.
domain_verification
Discover Broken Links, Errors and Redirects
Scan your website for internal and external links that have errors, broken links and images, duplicate content and images, check errors in your redirects and more. This comprehensive spider will discover links within your website that need to be updated.
new_releases
Spelling and Grammar Checks
Scan your content for grammar errors, misspelled words and punctuation issues with suggestions for you to accept or reject the changes for your content.
manage_search
Sitemap Tools
Auto-generate your sitemap quickly by adding your URL into our form which will crawl and analyze your site. You can manage your links so you can modify the Priority links including changing the Last Modification date and time or remove a page with our removal tool.
history_edu
HTML Tools
You can minify your code or Beautify it depending on your needs. We also include several options for attributes and removal tools.
traffic
CSS Tools
Our CSS tools are an excellent way of reducing web page loading times.
arrow_forward
Generate Critical CSS
You can add your current website code to Generate Critical CSS to only load above the fold CSS code.
arrow_forward
Minify CSS
Strip out whitespace, comments, indentions and shorten the code so it can load quicker.
arrow_forward
Beautify CSS
Format your CSS code so it is more readable and organized.
network_check
JS Tools
When you use our JS tools you can parse, minify and compress the javascript code on your website. In addition, you have the option to reorganize your JS code and make it more readable by using our Beautify option.
stars
Image Tools
When you use our Image tools you can replace JPEG, PNG and GIF file format with WebP. If you optimize your images to WebP you can make the file up to 34% smaller allowing it to load faster and improve your website speed.
new_releases
Htaccess Tools
Our Htaccess tools help you create the necessary file to compress and speed up your website files and images on a per-directory basis.
query_stats
Text Tools
You can use our Text tools to improve your website content and check for spammy words and how many times it is used throughout a page.
arrow_forward
Word Counter
Use this Word Counter tool to count the keyword density, characters and words on a page. Our word counter will highlight any issues you may have with grammar, spelling and punctuation. Once the issue is highlighted it will offer you suggestions to accept or reject the corrections.
arrow_forward
Keyword Density Checker
View the percentage of times certain keywords or even keyphrases show up on a website as compared to how many words are on the page.
Software features coming soon
manage_search
SEO Spider Tools
arrow_forward
Review Meta Robots and Directives
arrow_forward
Audit hreflang Attributes
arrow_forward
Discover Exact Duplicate Pages
arrow_forward
Site Visualizations
arrow_forward
Set Your Own Crawl Limit
arrow_forward
Near Duplicate Content
arrow_forward
Custom robots.txt
arrow_forward
AMP Crawling and Validation
arrow_forward
Structured Data and Validation
arrow_forward
Custom Source Code Search
arrow_forward
Custom Extraction
arrow_forward
Google Analytics Integration
arrow_forward
Search Console Integration
arrow_forward
Link Metrics Integration
arrow_forward
Forms Based Authentication
arrow_forward
Store and View Raw and Rendered HTML
arrow_forward
Data Studio Crawl Report
domain_verification
Lighthouse Tools
arrow_forward
File Generator
arrow_forward
Audit Tracker
history_edu
SEO Tools and Reports
arrow_forward
Keyword Research
arrow_forward
On-page SEO Performance
arrow_forward
Competitor Analysis
arrow_forward
Content Marketing Strategy
arrow_forward
Local SEO Optimization
arrow_forward
Rank Tracking for Keywords
arrow_forward
Social Media Management
arrow_forward
Link Building
arrow_forward
Competitor SEO Analysis
arrow_forward
Content Creation and Distribution
arrow_forward
Content Optimization
arrow_forward
Content Marketing Analytics
arrow_forward
Market Analysis
arrow_forward
Paid Advertising and Competitor Strategy
arrow_forward
Competitor PR Monitoring and Brand Reputation
arrow_forward
PPC Keyword Research
arrow_forward
Website Monetization for Bloggers, Publishers and Resellers
arrow_forward
Hreflang Generator
arrow_forward
Schema & Rich Snippets Generator: Review Schema Markup, FAQ Rich Snippets, Breadcrumb Markup, Homepage Markup, Article Schema Markup and Organization Schema Markup