SEO and Lighthouse Changes Before and After
For Buckmiller, Boyette & Frost, PLLC
This law firm had website rankings that were past the 10th page of the Google Search. Within a month we improved their website rankings for their main key phrases "Raleigh Bankruptcy Attorneys", "Raleigh Bankruptcy Lawyers", "Bankruptcy Attorneys" and "Bankruptcy Lawyers" which all showed up on the first page averaging 6th and 7th position. In addition, they were having a difficult time with their website that was at very slow speeds taking between 20-30 seconds to load each page.

Review of Lighthouse Project
(
5
star review)
Bryan took a very professional approach to improving our website speed. He kept the same website design we already had and re-designed the code in order to make our website run cleaner and quicker. Our website speed went from 18-25 seconds loading time to now less than a 1 second load time which was a dramatic improvement. He did the work quickly and delivered exactly what we asked. I would definitely hire him again for future work.
Blake Boyette
Buckmiller, Boyette & Frost, PLLC
4700 Six Forks Rd Ste. 150, Raleigh, NC 27609
Before Lighthouse Fixes
The client wanted to keep the same look and feel so we had the task of recreating the code and removing unnecessary code slowing down the load times.
This website before we made our changes was very slow and was created in WordPress with over 20 CSS files and 103 JS files, 12 coding errors and 286 code warnings.
After Lighthouse Fixes
The client's final design kept the look and feel intact which loaded the website much faster when we removed all of the unnecessary code slowing it down.
After we made our coding, images, javascript and Lighthouse changes the website was much faster and now had only 1 CSS file and 7 JS files with 0 coding errors and 0 code warnings.
Before Lighthouse Fixes
Lighthouse Audit Report
Before coding fixes Click To View Image
After Lighthouse Fixes
Lighthouse Audit Report
After coding fixes Click To View Image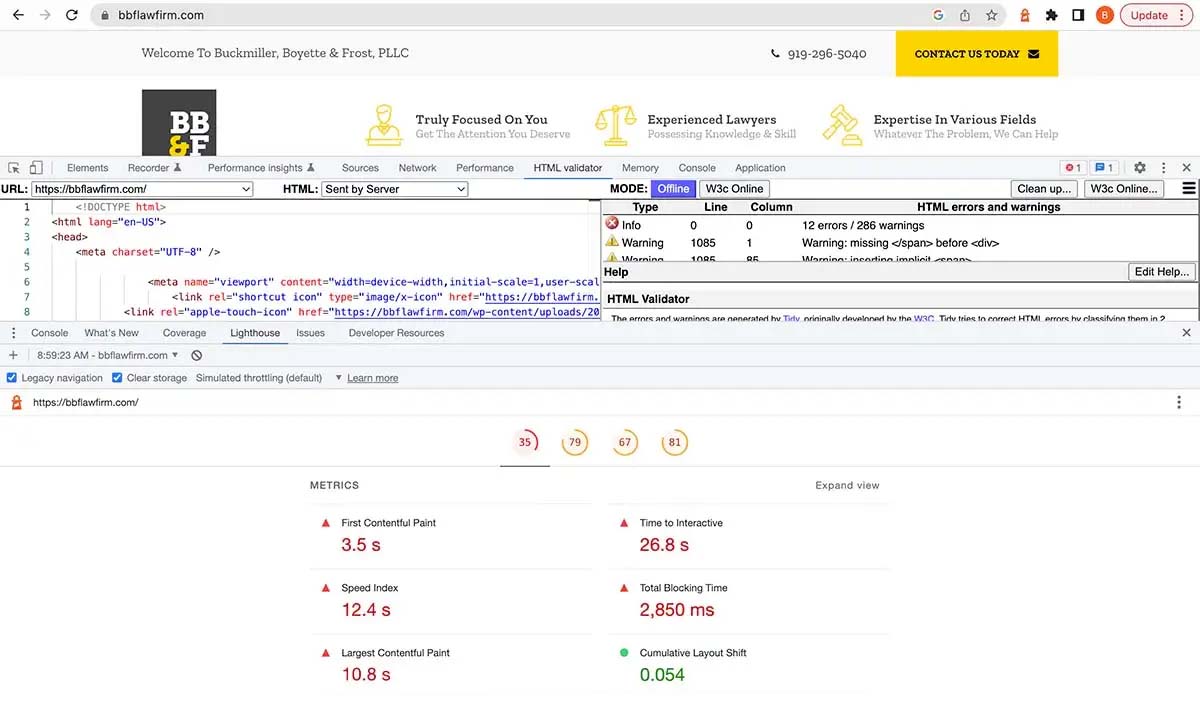 Before Lighthouse Fixes
Lighthouse Audit Report
Before coding fixes Click To View Image
After Lighthouse Fixes
Lighthouse Audit Report
After coding fixes Click To View Image
x